Loading Bay Equipment >> Dock Leveler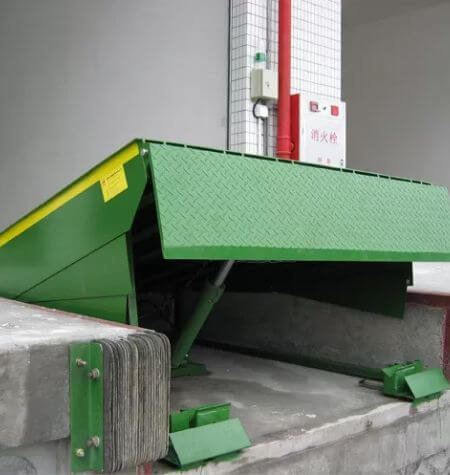 Its platform is welded using robotic arm and lip in almond anti-slip steel
Single effect lift cylinder, double effect lip cylinder
Security stop in case of unintentional departure of the vehicle. Maximum pressure valve
Numerous sizes of rubber cushions offered
Adjacent foot guard steel guards
Tilt permits Dock Leveler to recompense for canted situation
Maintenance prop to support Dock Leveler during maintenance checks
---
---
Radius Lip Dock Leveler
The easiest way to bridge the difference between vehicle and warehouse floor is with a Loading Systems Radius lip dock leveler. We offer a safe, energy efficient, easy-to-use and very durable solution! Our dock leveler with swing lip has a modular design and is easy to operate. This solution is particularly well suited for most warehousing sites where standard size vehicles operate.
The self-cleaning open lip hinge fabrication, the long lasting and modular design, the self-supporting characteristics, the closed hydraulic system and the low working pressure result in a long lifespan with a minimum maintenance requirement.
The swing lip dock leveler standard has multiple safety features. The dock leveler is CE marked and in accordance with all safety aspects of the European standard EN 1398.
The dock leveler is operation is very user friendly. The dock levelers can be supplied in many dimensions, load capacities and working ranges. A full range of options and operating methods are available to offer a solution for every customer requirement.
---
---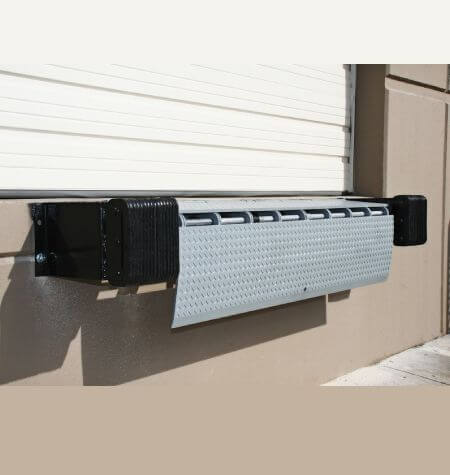 Edge Of Dock Leveler
If it is not possible to install a traditional dock leveler in your building then an alternative is a Loading Systems manually operated mini dock leveler.
Our manual edge of dock levelers is mainly used in situations which do not facilitate a traditional type of dock leveler and can easily be integrated into new or existing buildings.
The manually operated dock levelers are energy efficient since they do not require a power supply. This dock leveler is equipped with a swing lip. The robust fabrication and open hinge structure require almost zero maintenance. The edge of dock leveler cannot be removed making it an ultimately safe alternative.
Download Brochure
Enquire Now >>